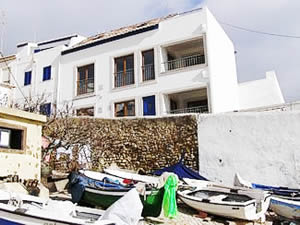 Additional features:
→ Seaview
→ TV
Bedrooms: 2
4 sleeps - 3 adults maximum
Kitchen: 1 fully equipped kitchen and 1 extralounge
Bathrooms: 1, bath shower with glass screen and Jakuzzi
Distance to the beach: 50m
Balcony or terrace: balcony with spectacular view over sea & beach
Further information
The Beach Apartment 1 (first floor) offers a large kitchen and dining area and a patio. A luxury bathroom has over bath shower with glass screen and a full size jacuzzi (water jet) bath. Luxury fittings are also fitted to the toilet and sink. Apartment 1 sleeps a maximum of 4 (3 x adults maximum).
The fully fitted kitchen consists of
Dishwasher
Washing Machine
Microwave
Full Oven
Expresso Coffee Machine
English TV
With stunning views from all rooms with security double glazed windows and patio doors. Although right on the waters edge not a whisper can be heard once doors and windows are closed.
Extras: underfloor heating, air con
E-mail